Avery Jane - Big Tit Office Chicks 07 - Avery Jane & FullHD (2021)

Year: 2021
Duration: 00:28:49
Quality: FullHD
Format: MPEG-4
Size: 1.22 GB

Name Porn: Avery Jane - Big Tit Office Chicks 07 - Avery Jane &
Genres: Straight Porn, Open Mouth Facial, Pussy to mouth, Deepthroat, Ebony, Tits Cumshots, Titty Fuck, Interracial, Stockings, Tattoo, Lingerie, Big Tits, Blowjob

Diego Perez is an intern working in Hollywood. He asks Avery Jane where their boss is, and she explains that he already left for a special movie screening. Diego is disappointed because he was hoping that he could go to the screening as well, but Avery says it's uncommon for an intern to get that kind of perk. However, since he's here, she has a question for him. She says she's aware that it's considered 'slutty' to give a blowjob on the first date, but... what about tittyfucking?Diego is stunned by the question, so Avery explains that she went out with a guy the other night, and he was getting horny, so she let him tittyfuck her. No blowjob, no pussy, just tittyfucking. But now he hasn't called her back! So that's why she's wondering if tittyfucking on the first date is too much. Diego assures her that it's not too much, and the guy who didn't call her back is just being a dick. He says that if he were in that guy's place, he definitely would have called her back, because she has amazing tits.Avery is flattered and reassured by this, but then she becomes concerned that maybe her tits didn't feel good on that guy's dick, and that's why he didn't call back. She asks Diego to tittyfuck her, so that way he can tell her if her tits feel good or not. Diego is shocked, but Avery's gorgeous curves manage to win him over. Who needs a movie screening when this is SO much better?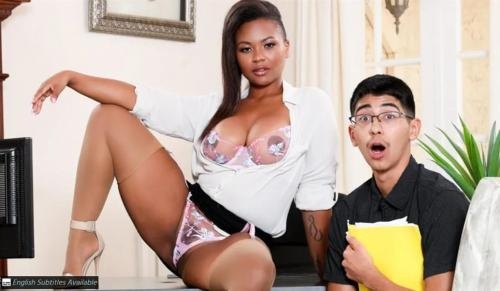 Information
Added: 07-11-2021
Category: Porn
Related Videos